Siammo arrivati anche in Bulgaria con
L'Abbecedario Culinario della Comunità Europea
ospiti di Paola del blog Nastro di raso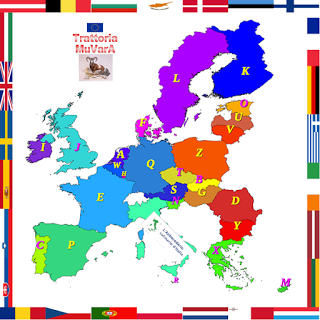 La ricetta di oggi è una ricetta vegana, senza carne o altri prodotti di origini animali cosi come si mangia nei periodi di digiuno ortodosso prima delle feste importanti ( nella Quaresima prima della Pasqua ma anche in altri periodi del anno alcune settimane prima del Natale o anche prima del Ferragosto ecc.. o nei giorni della settimana come mercoledì e venerdì quando sul calendario religioso non c'è scritto che si puo' mangiare carne, pesce o latte e derivati ).
Una ricetta nel stile monastico e per questo oggi mi piacerebbe aggiungere accanto a questa buonissima e profumatissima zuppa la foto del monastero bulgaro forse piu' conosciuto (al estero ): Monastero di Rila
Рилски Манастир
.
Per sapere di piu leggete qui
: http://www.rilamonastery.pmg-blg.com/Home_page_en.htm
trovate
tante foto

anche in questa pagina
: http://whc.unesco.org/en/list/216/gallery/
e adesso la ricetta ...
ingredienti per 2
240 gr fagioli* già cotti
2 bicchieri polpa di pomodoro
1-2 bicchieri di acqua ( o brodo vegetale)
1 cipolla piccola
1-2 carote
1 cucchiaio di sedano a cubetti
1/2 peperone tagliato a cubetti o striscie ( io a cubetti )
sale, paprika ( se vi piace)
2 cucchiai olio
1 cucchiaio di santoreggia secca
menta fresca
Mettete nella pentola l'olio con la cipolla tritata, le carote, il peperone e il sedano a cubetti o a piccoli pezzi secondo il vostro gusto con un pizzico di sale e 1-2 cucchiai di acqua, coprite con il coperchio e lasciate stufare 5 minuti al meno a fuoco medio.
Versate il pomodoro e lasciate cuocere alcuni minuti senza coprire la pentola. Adesso aggiungete la paprika e anche i fagioli già cotti, l'acqua quanto basta e un pizzico di santoreggia ( una punta di cucchiaino). Lasciate cuocere a fuoco medio basso fino quando tutto è pronto.
Assaggiate e aggiungete il sale se serve ancora, spolverate la santoreggia avanzata e la menta fresca tritata.
Gli ingredienti segreti, quelli tradizionali, sono proprio la santoreggia (
чубрица
chubritza
) e la menta (
dzhodzhen
Джодженът).
in romana
ingrediente pentru 2 portii
240 gr fasole boabe deja fiarta
2 pahare cu pulpa si suc de rosii
1-2 pahare cu apa
1 ceapa foarte mica
1-2 morcovi
1 lingura de telina taiata cuburi mici
1/2 de ardei gras ( daca e din cei foarte mari altfel unul intreg , taiat cuburi mici sau fisii)
sare, boia (daca va place)
2 linguri cu ulei
1 lingurita cu cimbru uscat
menta proaspata
Puneti in oala uleiul cu ceapa tocata, morcovii, ardeiul gras si telina impreuna cu un praf de sare si 1-2 linguri de apa, acoperiti cu capac si lasati 5 minute sa se inabuse la foc mediu.
Adaugati sucul si pulpa de rosii si mai lasati sa fiarba fara capac de aceasta data citeva minute. Apo adaugati boiaua si fasolea deha fiarta si scursa, apa cit este nevoie si un virf de lingurita de cimbru uscat. Lasati sa fiarba la foc mic- mediu pina cind toate ingredientele sunt fierte suficient.
Gustati ciorba si adaugati daca mai este nevoie sare apoi presarati restul de cimbru si menta proaspata si tocata marunt.
english
ingredients

for 2






240

g

allready cooked

beans




2 cups

chopped tomatoes




1-2 glasses

of water (or

vegetal broth

)


1 small onion




1-2

carrots




1 tablespoon

diced

celery




1/2

red pepper

, cut into cubes

or

strips




salt,

paprika

(if you like

)


2 tablespoons

oil




1 tablespoon

dried

savory




fresh mint





Put

the oil

in the pan

with

the

onion,

, carrots,

bell pepper

and celery

into cubes with

a pinch of salt

and 1-2

tablespoons of water

, cover with

the

lid

and let

cook for

5 minutes

at medium heat

.



Now add the

tomato

( juice and pulp)

and cook

few minutes

without cover the

pan.

Add

the

paprika

and

even

the beans

already cooked

,

just enough

water

you need

and a pinch of

summer savory

.

Cook over

medium low heat

until

everything is ready

.



Taste

and add

more

salt

if needed

, sprinkle

advanced

savory

and fresh mint

chopped.
registra il blog